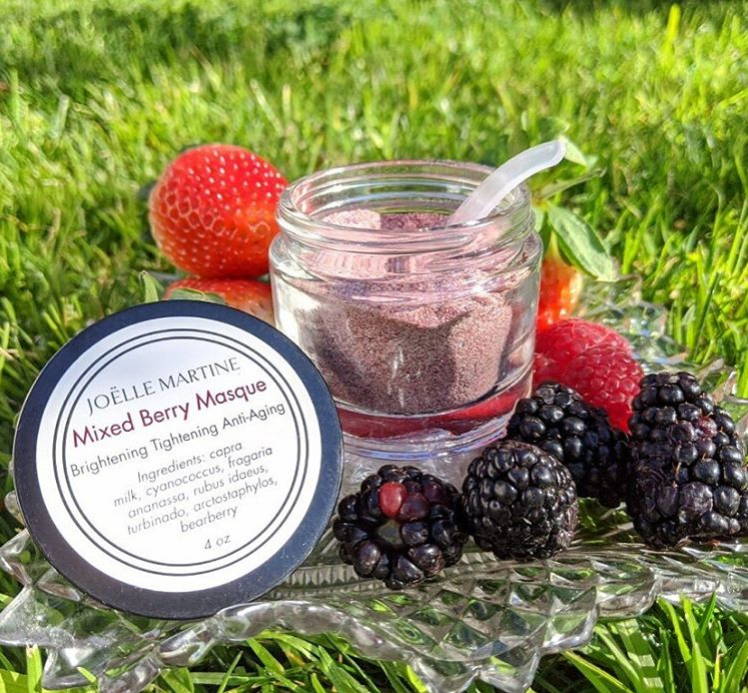 JOËLLE MARTINE Mixed Berry Masque is a brightening, tightening, and anti-inflammatory product that contains strawberries, raspberries, blueberries, and bear-berries packed with polyphenols.
These polyphenols act as antioxidants that neutralize harmful free-radicals and have the ability to protect the skin from various triggers that cause signs of aging, including: wrinkles, dullness, uneven skin tone, and loss of elasticity.
Even more exciting, these phenolic antioxidants help visibly repair environmental damage and revive the skins' natural defenses so that it looks fresher and healthier with each use.
Acne always has an inflammation component that needs to be addressed. Berries are a powerhouse of anti-inflammatory properties and contain loads of vitamins A, C, E, and K.
The addition of lactic acid, naturally found in goat's milk, will bring on the glow that clients love.
Incorporate this masque into your facials for it's anti-aging, anti-inflammatory properties. For deeper penetration, layer your client's face with Emu Nectar before applying the Mixed Berry Masque.For an intense treatment, apply steam or a steamy barber towel over the top of the masque.Following any of these methods, remove the masque completely with sponges, and apply JOËLLE MARTINE Moisturizing Day Serum to lock in moisture.
Advise your client to use Mixed Berry Masque twice weekly and encourage them to let this masque stay on their skin for 20-30 minutes before rinsing off with warm water. To make it sound less like a chore, let them know that they don't need to alter their normal schedule in order to do this! They can wear their masque while relaxing in front of the TV or reading a book.
Follow with application of either Moisturizing Day Serum or Moisturizing Night Serum.